You are viewing information about a past event.
Event Information
Date
February 3rd - 5th, 2023
Spark Your Leadership
Attention youth leaders in grades 7-12 and adult 4‐H volunteers! Don't miss your chance to participate in the 2023 Winter Leadership Camp, February 3 – February 5. It is always a great weekend full of leadership development and fun! Youth from throughout Wisconsin will come together Winter Leadership camp to work on improving their leadership skills through hands‐on, interactive leadership sessions. Youth will gain a better understanding of what it means to be a leader and how to apply being a youth leader in their club, county, and school. Along with leadership learning, youth will have opportunities to participate in a variety of recreational activities. Adult leader volunteers are also needed to support youth in learning leadership skills. Cost for youth is $80, which includes supplies that wi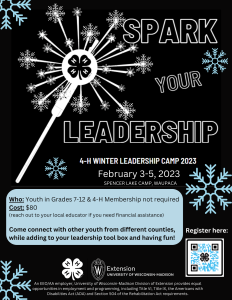 ll be shipped to you.
Event Location
Spencer Lake Camp, Waupaca